Steritech Pty Ltd sterilisation facility design
| | |
| --- | --- |
| Client: | Steritech Pty Ltd |
| Location: | Queensland, Australia |
| Scope overview: | Design a highly specialised facility for sterilising products |
| Facility: | Sterilisation Facility |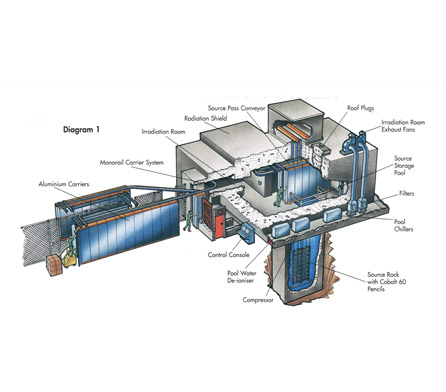 Project Description
Wiley advises on sensitive sterilisation facility for Steritech Pty Ltd
CLIENT
For more than 30 years, Steritech Pty Ltd has been the partner of choice within industries requiring sterilisation and decontamination services.
OBJECTIVES
Wiley was commissioned to design a highly specialised sterilisation facility for sterilising products such as medical health products, pharmaceutical products, cosmetics, cereals and fodder crops.
As Steritech uses an advanced form of radiation technology in its sterilisation process, the project raised safety and environmental issues.
CHALLENGES
Liaising with the client's technology and equipment supplier in Canada
Ensuring the adequacy of a mass concrete chamber structure to retain the source pool where radioactive rods are stored and to contain radioactivity during operation.
SOLUTIONS
Advice
Advice on the best use of the site for the complex, in-ground and highly critical structure
Assistance with client legal proceedings responding to environmental concerns.
Design
Facility master planning for efficient goods receiving, processing, dispatch and future expansion
Detailed liaison with the Canadian technology supplier to interpret specialised design requirements for radiation retention
Full construction detailing for all building components and building services.
RESULTS
Wiley delivered a period of specialised advice during the project's sensitive approval phases. Later, they also provided full construction design detailing for a groundbreaking project with a high public profile and sensitive safety and environmental issues.